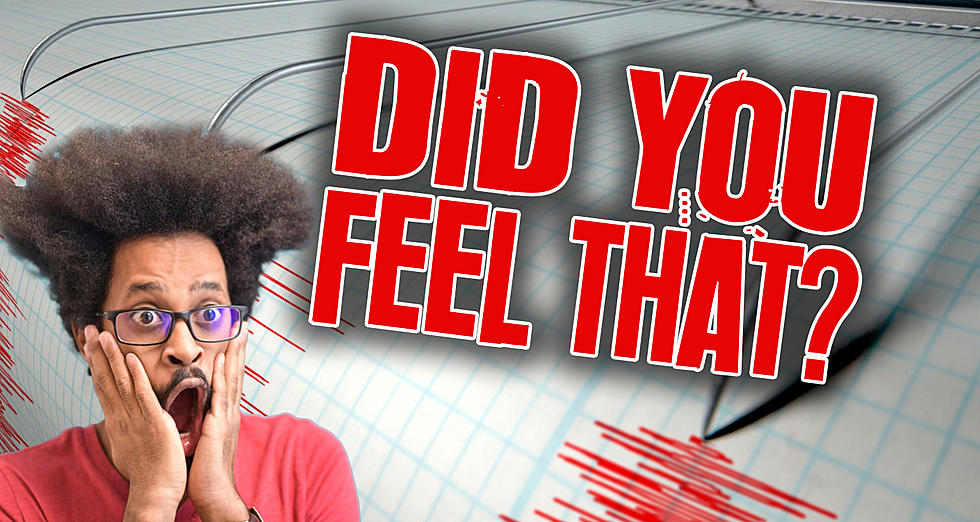 Did You Feel That?: Shaking In Southern Utah!
Canva
It's 12:30am on Thursday morning in Southern Utah. Did you feel the TWO shakes that just happened? It's been raining all day, was it thunder? Was it an earthquake?
It wasn't thunder or an earthquake...
It's Called Red Flag Exercises at Nellis Air Force Base.
From 3/13/2023 - 3/24/2023 these Red Flag Exercises will be happening. You will probably feel your house rumble and shake, and you'll hear something a little scary.
What are Red Flag Exercises? 
Red Flag Exercises are very realistic aerial war games / trainings. The purpose of these exercises are to give real life experience to refine skills of actual combat situations.
During these 11 days, if you live in Southern Utah, you will most likely hear and feel these booms, rumbles, and shakes. However, don't worry. There is no danger. It is simply our military training 100 miles away.

Crap's Expensive: Southern Utah's Cheapest Toilet Paper!
Yesterday, my sister called me talking about the CRAZY prices of Toilet Paper in Southern Utah grocery stores! I couldn't believe it (I'm a wet wipes guy, myself)! But I heard a 24-pack of Charmin was FOURTY DOLLARS, and I had to see it for myself!
I went to EVERY grocery store in St. George to report the prices of Toilet Paper! Here are the results!
(I chose Charmin Ultra Soft Toilet Paper 24-Pack for each store)
Albertsons:
At Albertson's, the 24 pack is $32.99 but on sale for $26.99! That's $1.12 per roll.
Costco:
At Costco, they don't have the 24-Pack, but they have a 30 pack for $20.69. That's $0.69 a roll.
Smith's:
Smith's 24-pack is $29.99 or $27.99 if you have a Smith's card. $1.25 per roll or $1.17 per roll with your Smith's card.
Lin's:
Lin's 24-pack was BY FAR the most expensive. $39.99 or $1.67 per roll.
Target:
Target's 24-pack was $26.49 or $1.10 per roll. HOWEVER, they had a deal! If you buy 3 or more you'll get a FREE $10 Gift Card. That would bring the total down to $0.96 per roll. But you've gotta put up nearly $80.00!
Walmart:
Walmart's 24-Pack is $26.48 which is $1.10 per roll.
BREAKDOWN PER ROLL WITHOUT DEALS:
Costco: $0.69/roll
Walmart: $1.10/roll
Target: $1.10/roll
Albertson's: $1.12/roll
Smith's: $1.17/roll
Lin's: $1.67/roll

Southern Utah Restaurants We REALLY Miss!
Orange Julius:
Orange Julius was in the Food Court at the mall. The Food Court that LITERALLY doesn't exist anymore, directly outside of Bohme and Dillards. I miss you, Orange Julius.
Sizzler:
Yes, I know Cedar City still has Sizzler, but St. George used to have one too! Right on St. George Boulevard. The current location is home to Alta Bank and looks NOTHING like a Sizzler!
JB's:
St. George had a JB's, and even Hurricane had a JB's. It was like, a little Dennys, kind of... But they had a buffet! The breakfast buffet was MY FAVORITE!! The JB's location is currently home to Zupas!
2 Fat Guys Pizza:
2 Fat Guys Pizza had a HORRIBLE location, but AMAZING pizza! It was in the little shopping center to the south of Walmart in Bloomington. Hungry Howies and Peppers Cantina are in the same spot that 2 Fat Guys used to be in. It was wood fired pizza, and delicious. After 2 Fat Guys left, MULTIPLE pizza places came into the same location and just couldn't make it work.
Charlie's:
Charlie's was a cute little restaurant that had ice cream, and soup, and sandwiches and always had a jukebox playing music. I miss Charlie's ALL THE TIME! Especially when I get sick. I miss that Chicken Noodle Soup. Charlie's location is now home to Swig on St. George Boulevard.

WOW! The Most BREATHTAKING Photos Of Utah, Proving It's The Most Beautiful State!
You've GOT to see these photos of our home state: UTAH! These prove we are EASILY the MOST BEAUTIFUL state in the U.S.

It's Official: Utah has a NEW State Flag!
Utah is getting a NEW state flag after the state Legislature approved SB31! This bill gives Utah it's new flag, while making the current flag the "historical state flag of Utah".
The bill passed the house with a 40-35 vote!
The following flags were the other 19 nominees:
The bill will go into effect in just over a year from now, on March 9, 2024, if signed by the governor.

Utah's Top 10 TINIEST TOWNS That You've Probably Never Heard Of
10. Kingston
Population: 158
Location: Piute County,  45.5 miles south of Richfield (As the crow flies).
Home of: Named after Thomas Rice King who settled the city with his family in 1876.
9. Brian Head
Population: 154
Location: Iron County, up high in the mountains. 11.5 miles from Cedar City (As the crow flies).
Home of: The premiere ski resort in Southern Utah.
8. Dutch John
Population: 151
Location: Dagget County, 4 miles northeast of The Flaming Gorge Dam (As the crow flies).
Home of: Named after John Honselena, a horse trader who supplied emigrants and railroad workers with horses in the 1860s. He was called Dutch John from his accent, even though he was actually German.
7. Hatch
Population: 154
Location: Garfield County, 14 miles to Bryce Canyon National Park (As the crow flies).
Home of: ATV Trails and Beautiful outdoor fun.
6 . Fairfield
Population: 140
Location: On the west side of Utah Lake. 22 miles West of Provo (As the crow flies.)
Home of: Originally named Frogtown, was a stop for many riders on the Pony Express Trail.
5. Alton
Population: 136
Location: Kane County, 31 miles northeast of Zion National Park (As the crow flies).
Home of: A quiet town with stunning scenery. In the 1800s, the name Alton was drawn out of a hat and given the name.
4. Lynndyl
Population: 125
Location: Millard County, 15 miles northeast of Delta.
Home of: Settled in 1907 as a "Stop on the railroad."
3. Antimony
Population: 122
Location: Garfield County, 45 miles south of Richfield (As the crow flies).
Home of: A mining town originally named "Coyote" changed to Antimony in 1921.
2. Ophir
Population: 55
Location: Tooele County, 11 miles south of the city of Tooele (As the crow flies).
Home of: Gold and silver mining in the 1800's.
1. Scofield
Population: 23
Location: Carbon County, 20 miles northwest of Price (As the crow flies).
Home of: Scofield Reservoir State Park.