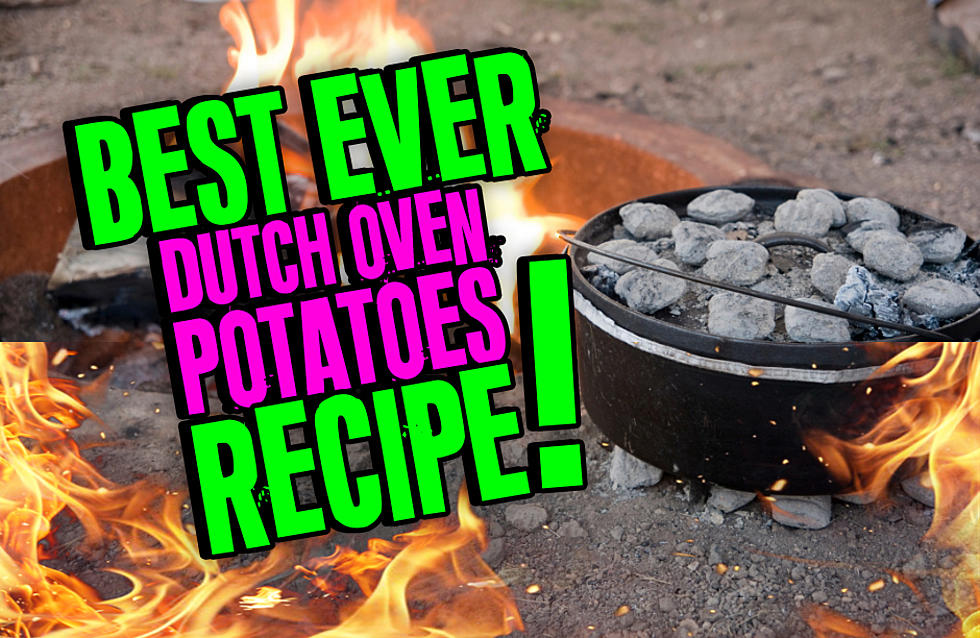 Southern Utah's BEST DUTCH OVEN POTATOES Recipe!
Canva
Over Memorial Day Weekend, I had my Nephew ask me to make my specialty for dinner: DUTCH OVEN POTATOES!
Here's what you'll need:
Potatoes
Onion
Shredded Cheese
Bacon
Chicken Breast
Charcoal Briquettes
STEPS:
1. Get your briquettes lit! Get them white hot!
2. Drop in your cut-up bacon. (The grease will the bacon should be enough to make sure things don't stick. But if you want, you can use a little oil or butter.) Keep stirring that bacon occasionally.
3. Once that bacon is getting cooked, drop in your chicken breasts. Let your bacon and chicken cook together with the top on.
4. Keep stirring your bacon and chicken, and flip your chicken over. MAKE SURE IT'S REALLY GETTING COOKED.
5. Once it looks like your chicken is getting cooked, drop in some (not all) diced onions. (I like doing my onions early so they get cooked well.)
6. After a while, your chicken should start to get pretty cooked. Start shredding your chicken up BEFORE putting anything else in. Make sure your chicken is cooked!
7. Throw in your sliced potatoes. NOT TOO THIN! Stir those in, get them to the bottom of the Dutch Oven, and get your chicken and bacon to the top.
8. Throw in the rest of your diced onions.
9. At this point, you can keep slow cooking everything, or build a fire around your dutch oven to really bring the heat up (This is what I do). But DEFINITELY put some hot briquettes on top of the lid of the dutch oven. That will help cook the food near the top.
10. Stir a lot! Taste those potatoes. If they're nice and soft, you're ready to go!
11. SEASON EVERYTHING! Onion Powder, Garlic Salt, Salt, Pepper. Be pretty liberal with it if there's LOTS of potatoes!
12. Add SO MUCH SHREDDED CHEESE! Stir. MORE CHEESE! Stir.
13. Enjoy, my guy!

DJ's Kitchen: Homemade Sakura!
Sakura... AT HOME! No long wait times, no high prices, no awful hibachi show... Okay that last one doesn't count. That's the BEST PART of Sakura! THE SHOWMANSHIP! I LOVE IT!
Here's how I made myself the BEST Japanese Hibachi in the privacy of my home, for a fraction of the cost!
INGREDIENTS YOU'LL NEED:
Protein:
Steak, Chicken, or Shrimp. (I went with Steak.)
Rice
Butter
Garlic
2 Eggs
Onions
Sesame Oil
Teriyaki Sauce
Soy Sauce
Salt & Pepper
STEPS:
Cook your rice.
Cut the fat off the steak, then cube the remaining meat
In a frying pan, I melted butter and scrambled two eggs before adding in the cooked rice.
In a big pot, I melted butter and threw in the steak. I like the big pot so grease doesn't splash everywhere.
Simultaneously, I'm frying the rice and steak in two different pans.
I add more butter to the rice and about a teaspoon of chopped garlic.
Also, about another teaspoon of sesame oil to the rice.
Splash in some soy sauce to the rice.
Splash in some soy sauce and teriyaki sauce to the steak.
I also throw in some onions to the steak for some flavor!
Season that to your liking and...
YOU'RE READY TO PARTY BABY! ENJOY!

Southern Utah's BEST Homemade Ramen Recipe!
I grew up on Top Ramen, but now that I'm older I've discovered ACTUAL RAMEN, and it's probably my favorite! This weekend I decided to try my own HOMEMADE Ramen, and it's SERIOUSLY INCREDIBLE! The best part: It's REALLY inexpensive too!
1. Two packages of Chicken Ramen Express by Chef Woo.
Vegetarian, No Dairy, and no MSG, made in the USA, baby! They cook in 3 minutes once the water is boiling!
2. 3 Cups Great Value Chicken Broth (1 cup water)
This chicken broth was like $1.90 and obviously WAY BETTER than just water for your ramen! The Ramen calls for 2 cups of water per package. I will do at least 1 1/12 cup chicken broth and 1/2 cup water for more flavor!
3. Half Can Great Value Sweet Corn
Adding corn to ramen seems so simple.. But it makes a HUGE difference! Throw it in when the noodles are soft and boiling.
4. A few splashes of Soy Sauce
This helps with the flavor just a little bit. I probably do 4 or 5 splashes into the boiling ramen!
5. Great Value Parmesan Cheese
Throw this on top after your ramen, and ramen seasoning is in your bowl! I love it. A lot of people don't do parmesan on their ramen, but it's SO GOOD!
5. French Fried Onions
I would've never thought these could be SO GOOD in ramen, but they are! They get soft, and add that onion flavor. SO SO SO GOOD!