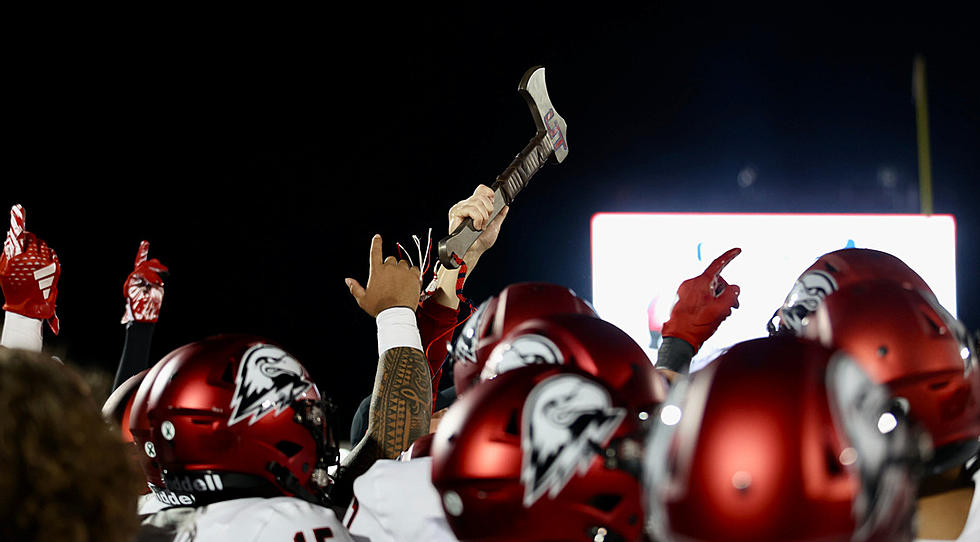 Thunderbirds Bring The Axe Home And Grab A Winning Season
SUU Media Relations
The last time the Southern Utah University Football team had a winning season was back in 2017 when the Thunderbirds finished with a record of 9-3. Saturday night, the T-Birds concluded the 2023 campaign with a record of 6-5.
Oh, and they also brought the axe back to Cedar City in the battle for the axe with a 24-16 win over in state rival Utah Tech University. SUU shook off a slow start and were able to grab the victory thanks to a mixture of a dominant rushing attack combined with a record breaking performance from senior quarterback Justin Miller.
Miller broke both the total career yards and total career passing yards records, previously owned by Brad Sorensen. Miller closed his career with 9,447 total yards to break the previous record of 9,377 set by Sorensen from 2010-12. Miller also finished his career with 9,534 total passing yards to clear the 9,445 put up by Sorensen.
Senior wide receiver Isaiah Wooden moved into a second-place tie with Tysson Poots for the most receiving touchdowns in a season with 14. Poots owns the record with 15 in 2009 and captured 14 touchdowns in 2008. Wooden concluded his career with a five catch 47 yard performance.
The Thunderbirds dominated the rushing game with a pair of 100-yard rushers. Junior running back Targhee Lambson racked up 138 yards on 14 carries for a 9.9 average. Sophmore running back Braedon Wissler gained 130 yards also on 14 carries for an average of 9.3. Overall, the T-Birds outrushed UTU, 274-178.
Sophomore linebacker Kohner Cullimore had a tremendous day with 10 tackles, including four for loss and a forced fumble. Senior cornerback Cody Coleman also forced a fumble while sophomore safety Trevon Gola-Callard grabbed an interception.
The Thunderbirds will now begin preparation for the 2024 campaign with the axe firmly in hand.
LOOK: Misheard lyrics from iconic rock songs
Stacker
compiled a list of misheard lyrics from 25 iconic rock songs, pulling information from the news, music journalism, and independent polls.
Gallery Credit: Stacker